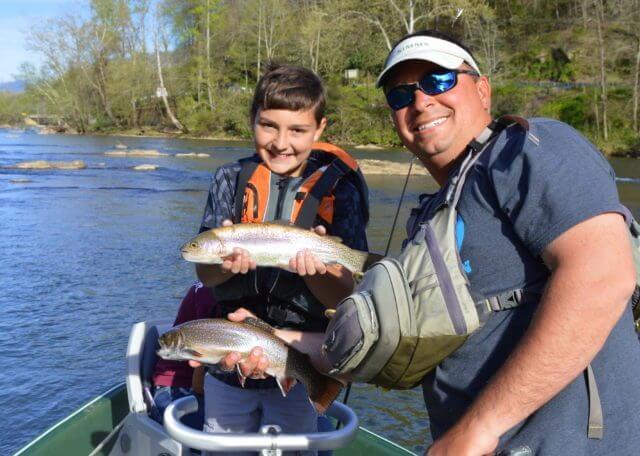 Capt. Eugene Shuler
Bryson City, NC
(828) 488-7665

Eugene Shuler is a third generation guide, a Smoky Mountain native and the Lead Guide of Fly Fishing the Smokies. He was inducted into the Southern Trout Legends of the Fly Hall of Fame in February of 2019, making him the youngest person ever to be inducted. Eugene is a licensed Captain by the United States Coast Guard, holds a degree in Outdoor Leadership, and a Certified Fly Fishing Instructor from the Wulff School of Fly Fishing in New York and a graduate of Hubbard's Guide Academy in Montana. He is also Wilderness First Aid and CPR certified. Eugene is widely recognized as the leading expert on Smoky Mountain fly fishing and regional tailwaters. Eugene was the Founder and President of the Board of Directors of the North Carolina Fly Fishing Team which is the winningest fly fishing team in North America. He is a current and active member of the International Game Fish Association, Federation of Fly Fishers, American Casting Association, Captains for Clean Water and Trout Unlimited.

In 23 years of guiding Eugene has built an impressive resume and fished with some of the world's best anglers and guided celebrities and dignitaries from around the globe. He has more guided trips under is belt than any other guide in the region. Logging more the 340 guide days per year on the water, most of them with repeat guests.

Eugene has competed in countless fly fishing competitions all over the US. He has won many events, and set a couple state records in the process. He currently holds the NC State Record for Distance Fly Cast. Eugene won the Eastern Regional of the Field and Stream Magazine Total Outdoorsman Challenge. He has competed and placed in the top of numerous Team USA Fly Fishing National Championships, and Team USA Regional Qualifiers. Eugene placed 2nd in the OLN Fly Fishing Masters, and was the Pisgah Flymasters Champion. He also placed 2nd overall at the America Cup International Fly Fishing competition in Colorado, and placed 4th in the world at the Musky Fly Fishing World Championships.

Eugene has appeared on numerous television shows on the following networks, ESPN, HGTV, OLN, Versus, The Sportsman Channel, Outdoor Channel, Fox Sports South, Heartland Network, UPN Networks. He has also been in many publications including American Angler, Fly Rod and Reel Magazine, Success Magazine, Fly Rod Journal, Field and Stream, Fly Fisherman Magazine, Kayak Angler, Southern Trout Magazine, North Carolina Sportsman Magazine, Smoky Mountain News, Smoky's Travel Host, Montgomery Style, and numerous local and regional newspapers.