Our History
Many Years In The Making...
Early 1950's
LaMoyne Hyde built his first drift boat with his father Keith Hyde (right). This boat served them on countless trips down the Salt and Snake Rivers in Wyoming.
This boat was the beginning of a life of boat building for LaMoyne and his family.
Late 1950s Through 1960s
During this time LaMoyne worked in aviation building single prop airplanes for crop dusting. Those years of experience building and flying airplanes gave him a strong comprehension of fluid dynamics. Understanding how the design of an airplane affects air flow ultimately helped build the foundation of Hyde Drift Boats bottom design. The picture shows a Single Prop Airplane similar to the type built in the 1960's by LaMoyne Hyde.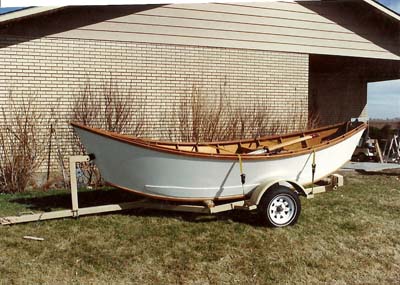 Mid 1980s
LaMoyne and his sons (Matt & Steve) started building wood drift boats to sell commercially. These boats had a rocker style bottom including a front brace to hold anglers while standing in the boat.
Late 1980s
The first production aluminum Hyde Boats were rolled out. The Hyde aluminum drift boats took 7 different designs and many tests to make them row and perform optimally. Photos: The photo above is Hyde's first aluminum boat produced.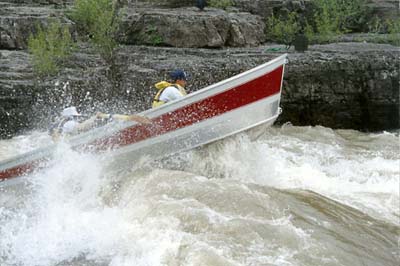 One of many Hyde Boat testing sessions on Lunch Counter-Snake River in Idaho.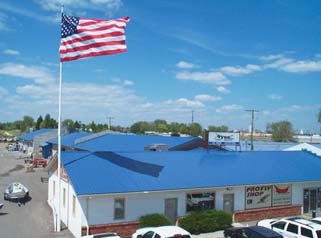 Hyde Boats continued growing and needed more space! Several additions were made to the manufacturing facility to accommodate the need for increased production.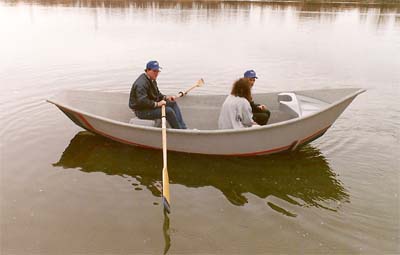 Early 1990s
LaMoyne Hyde built the first fiberglass Hyde Drift Boat. Made with a rocker design and plenty of interior space. This boat was the best all around drift boat in it's day.This picture shows one of the first Hyde Fiberglass Drift Boats in the 90's.
Mid 1990s
The fiberglass Hyde Boat model went through several revisions before the popular 16.8′ high side model was developed. This Hyde design has been the choice of many anglers all across the United States, Canada, South America, and Australia ever since. The image shows the Traditional Style Hyde Drift Boat.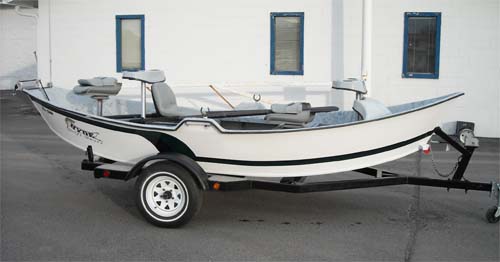 Late 1990s
Hyde started building the first Hyde Low Profile Drift Boat models. This new line was designed to meet the needs of anglers who wanted easy entry and exit from their boat. The Low Profile was also designed to handle high wind areas. This model instantly became one of the best selling drift boats in the industry. This photo shows the 1997 Hyde Drift Boat.
Late 1990s - Early 2000s
Hyde's R&D department redesigned the stern on their fiberglass boats. The new rounded design reduced drag with the water significantly, adding one more feature to increase the ease of rowing a Hyde Boat.
Hyde added large level floors with built in tread as a standard feature in their boats. This added comfort to the passengers and rower by providing a flat surface to stand on throughout the day. It also kept water tracked in by boots, wet dogs, etc… under the floor system.
In response to the requests for a drift boat that could be "carried in" to small remote waters, Hyde built the Sportsman's Drifter Series (seen below). This boat was about 130 lbs and could easily fit in the back of a pick-up truck or be trailered. Built to carry two anglers, this boat is perfect for back-country rivers and streams.
Hyde also built a line of flat bottom canoes for several years called the "Hyde Kanoe". To focus the company's efforts on drift boats, this popular canoe line was ended in the mid 2000's.
Early 2000s
Many anglers wanted the ability to drift down a river and motor back up to the boat ramp at the end of the day. The Hyde Power Drifter was designed to meet this need. Built with a small 60/40 H.P. jet motor this boat could move up stream with ease.
Some of the features included:
Tunnel in the transom
Oars
Leg Brace
Cooler seating for passengers
The blue Power Drifter above was first seen on the Dean River, BC Canada.
 Mid 2000s
Hyde Started Building the Contender Series. This new line offered a more simple boat, comparable to our competitor's high end drift boats lines. While more simple than Hyde's Professional Series, this boat still offers more features than competitor boat models, including:
Several interior seating options
Front and Rear Leg Braces
Built-in rod storage with recessed pocket (for the reel) and open side storage compartments
Hyde introduced the new 3-Point Leg Brace in this model. This brace allowed anglers to stand and face any direction in the boat while maintaining full leg support. The brace also helped keep passengers centered in the boat.
Taking their drift boats to the next level in luxury, Hyde built the LH Limited Edition as seen above. Featuring the new G4 bottom and built-in storage compartments.
Hyde also came out with a completely redesigned Sportman's Drifter model (shown above). One of the major upgrades included Hyde's innovative front leg brace (built into the bow). This addition provided increased stability and comfort to anglers fishing in the front of the boat.
The redesigned Sportman's Drifter Featured:
All fiberglass design
Inclusion of built-in front leg brace
Added the rounded stern to decrease drag and improve the ease of rowing the boat
For our many customers in the Northwest U.S. and others that run really big water, Hyde developed the Northwest Series (seen above). It's footprint is similar to Hyde's Classic 16.8′ model, but with even higher sides to allow it to run many types of large rivers.
 Late 2000s
To answer the call for a boat with even more room for anglers and gear, Hyde came out with the XL Hybrid Series, as shown above. The XL Series Hybrid was the first in this line with nearly a 17′ centerline! The Hybrid model had a combination high side bow with two low profile sides (to allow easy entry/exit from the boat).
The Hyde Hybrid model was such a success that they designed an XL Low Profile model, as shown in the image above. This boat provided all the benefits of the professional series low profile, while providing even more room for anglers and gear.
Requests for a boat that could get into small backwaters, while still providing ample space in the boat's interior, lead to the creation of the Hyde Rocky Mountain Skiff, as seen above. The skiff can make it's way through small waters and cut through windy weather.
Other Notable Events
– This year marked the 50th TV show featuring LaMoyne Hyde.
– The Hyde Outfitters, Last Chance Lodge was sold after 10 years of operation and thousands of professionally guided fly fishing trips. As more drift boat models were being designed and produced, the time came to let go of this part of the business to continue expansion of our drift boat lines.
Early 2010s
After years of testing, the Contender Series went through a couple design revisions. Some of the changes were as follows:
The front leg brace was restyled to be more sleek like the Hyde Professional Series
The recessed rod holders were extended to house longer fly rods
The chines were slightly modified
Larger storage boxes were added to the boat with a top end lid
From the excitement of Hyde's other XL Series models, and due to many customer requests, Hyde came out with an XL Series High Side Drift Boat. Using the same footprint as it's companions in the XL series, this model had full high sides while still giving a nearly 17′ centerline. The XL High Side provided a great option for anglers who run diverse waters and want plenty of room to stretch out.
The Future of Hyde Boats?
…Whatever new ideas you give us!
Here at Hyde Drift Boats listening to feedback from You (our customers), has made us what we are today. Thank you for making our history rich. There have been years of adventures accumulated by all the fishing that's been done in Hyde Boats, and we're grateful to be a small part of your many fishing memories. We look forward to more great years ahead fishing with you.
Sincerely,
Hyde Drift Boat Team
(Photo above – 2012 Hyde Drift Boats Team)
Other Notable Items
NOTABLE PEOPLE
Meeting of some great minds in the fly fishing industry: LaMoyne Hyde, Jack Dennis, Buck Goodrich, and several professional fly tiers.
One of many fishing trips with friends in a Hyde Boat: left to right – Kohn Smith, Johnny Bench, Bobby Knight.

COMMUNITY & WILDLIFE OUTREACH
Annual contributions to

 

Trout Unlimited. Hyde has also competed several times in the Green River Single Fly Tournament.
Annual contributions to the

 

Fly Fishing Federation
Sponsorship of the

 

Jackson Hole One Fly

 

Tournament
Contributions to Ducks Unlimited
Contributions to the Rocky Mountain Elk Foundation – helping the preservation of Idahos's Elk habitat.
In 2011 LaMoyne Hyde received the

 

Lee Wulff Award

 

for his many river conservation efforts and innovation in the industry.
All the families of the Hyde Drift Boats Team
One of many sessions filming on the river with John Barrett, John Havlicek and LaMoyne Hyde for ESPN's Fly Fishing America.
The Hyde Drift Boats Team took 3rd place in the ESPN Fly Fishing Challenge: from left to right – LaMoyne Hyde, Cassandra Osborn, Rod Bowden, Pat Bennett.