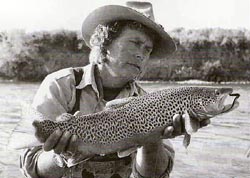 Neale Streeks
Montana
406-761-1677

Much of Neale Streeks' life has been centered around rivers. He's fished since youth, built high tech white water boats for years, and has guided on Montana's Missiouri, Smith, Blackfoot, and other regional rivers since 1978. Neale is the Author of "Drift Boat Strategies" and many other fly fishing related books.
"I've been guiding with my Hyde Low Profile for a season now and I love it! Hyde's light weight, rounded transom and parallel chines make for the best rowing boat I've used in twenty-five years. Without a doubt, it tracks better than the competition. It responds quickly and holds in the current with minimal effort.

The professional finish sets Hyde Drift Boats apart too. Attention to detail from years in the business really shows. The rod storage tubes are a big plus. What I really love is the elevated floor for the rower. No more dirty water sloshing around my feet! Instead, its channeled to holding pockets along each side where the water is easily bailed from the boat. The level floors for the angers are superior to most other designs.

When I ordered my boat, I wanted a couple of things modified. Old habits die hard. The modifications were no problem and Hyde built a beautiful boat to meet my needs in a timely fashion. The family staff was friendly, helpful and knowledgeable in all aspects. I recommend Hyde to anyone."
- Neale Streeks