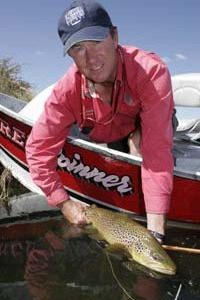 Peter Hayes, Peter Hayes Guides
Tasmania, Australia


Peter's greatest fishing excitement comes from guiding clients. His office in the unique and beautiful highland lake country of Tasmania…. Seeing his clients sight fishing and catching big wild brown trout in the highland lakes, tarns and lagoons is his pleasure and mission.

Peter started guiding in 1994 and quickly developed a growing repeat clientele. Extensive trout fishing experiences in North America, New Zealand and mainland Australia have stood him in good stead in his homeland Tasmania.

Peter has conducted over 300 'advanced' fly casting courses during the past 8 years, both in Tasmania, on mainland Australia and in New Zealand. There is currently no one more qualified to teach casting at this level, in Australia.

Peter's clients catch more fish as they gain from his casting expertise…readily absorbed in a day chasing "tails."

"A day guided by Peter is memorable. Not only for the many opportunities to catch fish, but his wide knowledge of fishing folk lore, magnificent lunches and companionship make for a very special experience…." James Dixon.

In 1998 Peter also won the Australian Fly Fishing Championships held in the Snowy Mountains. This win earned Peter a place as the 'number one' qualifier on the Australian team to compete in the World Fly Fishing Championships, to be held in Australia in early December 1999.

May 2000 Peter represented Australia at the World Fly Fishing Championships held in Bristol – England. A career highlight was winning a bronze medal at this competition, the peak of the sport. Peter was also able to catch the largest fish of the competition, a brown trout of 61.5 cm on a dry fly from the River Test.

Also no stranger to salt water fly fishing Peter has competed successfully in the Broome Fly Rod Sailfish Tournament on two occasions. He has fished throughout the Kimberley area of Western Australia for all manner of saltwater species, in the Northern Territory for Barramundi, and in Queensland for Trevally and Tuna.
"We have had Hyde drift boat in use for the past two seasons here in Tasmania. Prior to that, we had used a variety of inflatable and hard hulled boats. I can say that these Hyde drift boats have exceeded our expectations in every way. We were looking for an opportunity to take our guiding business to the next level and these boats have certainly enabled us to do this. I could rave on about it but the bottom line is if you buy a boat that has been developed and refined by three generations of fly fishermen you will not have anything to worry about."
- Peter Hayes, Peter Hayes Guides