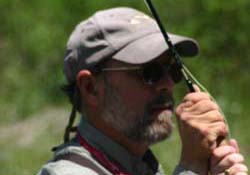 Steve Bonner, Native Run Fly Fishing
Grants Pass, OR
541.660.0540

Steve Bonner is a Native of So. West Oregon and grew up along the banks of the Rogue River. He learned the ways of the river by watching others, learning from their successes and failures. Steve's keen sense of observation resulted in his transformation into a top notch fly fisher and a highly skilled oarsman.

Steve began his guiding career in 1989 and was one of the first fly fishing only guides in the Rogue River basin. He taught fly fishing at the college level for six years. He went on to open the first complete fly fishing store, Native Run Fly Fishing Shop & Outfitters, in the Grants Pass area in 2000. He has earned the reputation of being one of the best guides in So. West Oregon and draws many repeat customers.

After loosing his lease at the store's first location, Steve was able to participate in the design and construction of his new store, a 3,800 square feet that includes a 90 foot casting lane along side. The feature has been a favorite of customers wanting to tryout new rods or fly lines and has also been a great teaching aid. His store offers overhead and spey casting lessons as well as fly tying.

Steve guides on a variety of waters, some with very difficult access as well as rowing conditions. He started his guiding career using a wooden boat that he built from a kit. He soon found that while wooden boats looked great they didn't hold up to the rigors of guiding. Steve tried about every drift boat made and then he discovered Hyde. Hyde has truly become Steve's ride. Steve now sells Hyde boats and is truly "sold on them.
"Hyde Boats allow me to go where others cannot. I often launch my boat over boulder strewn banks, over guard rails or whatever else I need to do to put my clients on the most productive waters. With Hyde's G4 bottom there isn't much that will slow me down. Few other boats handle as well as a Hyde. My fiberglass is far more comfortable as it doesn't get too hot in summer nor does it freeze in winter. No other maker offers as many options as Hyde."
- Steve Bonner, Native Run Fly Fishing